THE JEWELLED SNAKE - APRIL 2023 NEWS
This April there is no shortage of exclusive new pieces in-store, including the recent arrival of a very special limited edition coin:
The Jewelled Snake
.
Made of 99.99% pure rose gold, this unique new release from The Perth Mint is a limited edition collector's item. At J Farren-Price, we are pleased to have the final piece for sale, coin number 8/8.
The release of the eye-catching Jewelled Snake coin marks Perth Mint's latest addition to their renowned Masterpiece series. This is the sixth release from its exclusive range of diamond-studded coins, joining the Jewelled Phoenix, Dragon, Tiger, Horse and Koi coins.
A scintillating fusion of pure gold and fine diamonds, including rare Argyle Pink Diamonds™ from Western Australia's famous Argyle Mine, this remarkable release is a spellbinding addition of astonishing beauty and intricacy to The Perth Mint's Jewelled Series.
Each Jewelled Snake coin is struck from 10oz 99.99% pure gold, with the hero piece an 18-carat rose and yellow gold snake coiled around a tree branch. The snake's body is embellished with 175 hand-set pink diamonds sourced from the Argyle Mine, totalling 2.66-carats. It is also comprised of 111 white diamonds for a total of 1.36-carats, with two Muzo emeralds for eyes.
This exceptional collector's item is presented beautifully in a special box, so that your piece is always protected. The Jewelled Snake limited edition 8/8 coin is available for purchase now at J Farren-Price, with a retail price of $289,000.
If you are interested in acquiring the exclusive new treasure, please enquire here or visit our salon at 80 Castlereagh Street, Sydney.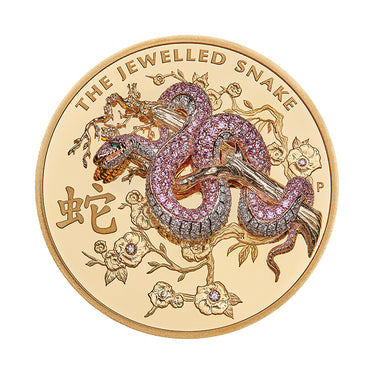 THE JEWELLED SNAKE ARGYLE PINK DIAMOND COIN - LIMITED EDITION 8/8
details
Precious Metals: Rose gold, 99.99% purity.
Gemstones: Round brilliant cut Fancy Intense/Vivid Pink/Purplish Pink Argyle pink diamonds totalling 2.66ct. Round brilliant cut white diamonds totalling 1.36ct. Muzo emerald, 0.001ct.
Limited Edition: This Jewelled Snake coin is a highly exclusive limited edition piece, number 8 of 8.
REF: SG477
Price on Application
MAKE AN ENQUIRY